Lionel Messi has won his 8th Ballon d'Or. As the Golden Ball winner, he has been recognized as the best football player of the 2022-23 seasons. The Argentinian World Cup Champion defeated Erling Haaland and Kylian Mbappe to claim the prestigious award, with the Norwegian and French forwards finishing in 2nd and 3rd place respectively.
During the Ballon d'Or 2023 ceremony, various awards and nominations were presented for achievements in the previous season. Among the awards announced were those for the Best Male and Female players, Best Teams, Best Striker, Best Goalkeeper, and many others.
The show in Théâtre du Châtelet was presented by Chelsea legend Didier Drogba and journalist Sandy Heribert.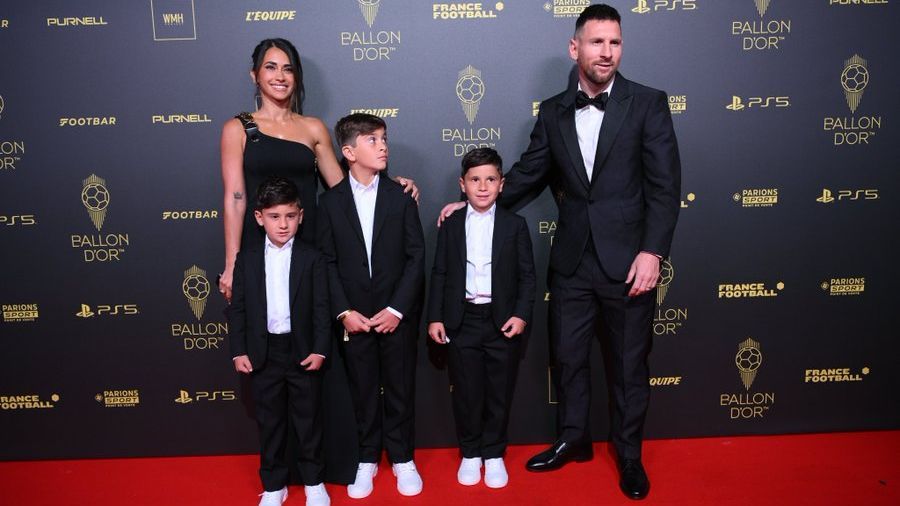 Messi Wins Record Eighth Ballon d'Or Haaland is the Second
As anticipated, Lionel Messi secures his eighth Ballon d'Or Trophy. Further extending his record, following his outstanding performance in guiding Argentina to World Cup triumph.
Nicknamed D10S, like Diego Armando Maradona, Messi becomes the first player from Inter Miami who wins the Ballon d'Or.
"It's nice to be here once more to enjoy this moment. To be able to win the World Cup and achieve my dream. All of my 8 Ballon d'Ors are special.

I couldn't imagine having the career I've had and everything I've achieved, the fortune I've had to be part of the best team in history.

To win the Copa America and to get the World Cup after all those difficult moments in the national teams."

Lionel Messi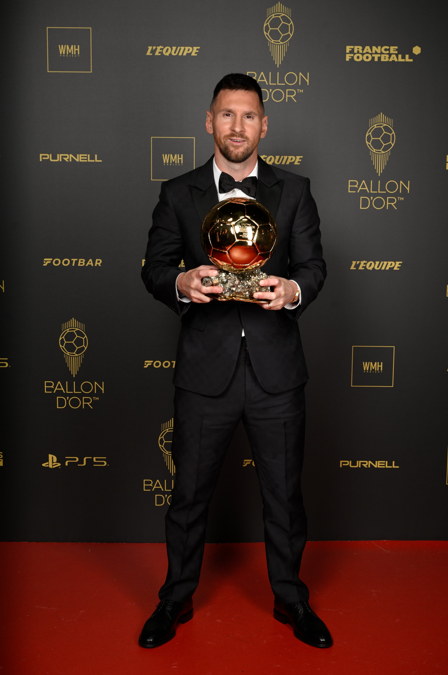 What Did Messi Say After Winning the 8th Ballon d'Or
Lionel Messi said he didn't know "how much longer" he would continue playing football. After questioned about his plans for retirement as he won a record-extending eighth Ballon d'Or.
Doesn't Forget Haaland and Mbappe
"Thanks to everyone, especially my teammates. Thank you to everyone who voted for me. This Ballon d'Or is a great gift for all of Argentina. I don't want to forget Haaland or Mbappé, who had a great year, spectacular, and in the coming years they will win this award.

It's going to be a nice fight between the two of them and between several other younger players around here. They both deserved it this year. Erling, this could have been yours and it would have felt perfect."
Lucky Enough with Barcelona
"The truth is that they are all special. They all have a special meaning because in the midst of their recognition, there were a different types of situations. I was lucky enough to win a lot while at Barcelona, from where I managed to and was lucky enough to achieve everything at the club level."
Success with the National Team
"The last two are special because they come hand in hand with the national team (success). Something that throughout my career was like being denied and in the end ended up changing and being different and much more.

This one comes from the World Cup…with what that means for a player and for us in Argentina. The way we live it, the importance we attach to football and to being world champion again after a long time."
Leo Messi about Diego Armando Maradona at Ballon d'Or Ceremony
"I want to make one last mention of Maradona. Happy birthday, I think there is no better place than here to congratulate him, full of players and with a ball. This Ballon d'Or is also yours and that of all of Argentina.
🌕 Lionel Messi pays tribute to Diego Maradona

💬"Wherever you are, happy birthday Diego! This trophy is also for you."#ballondor pic.twitter.com/mcx9V0Hqyz

— Ballon d'Or #ballondor (@ballondor) October 30, 2023
Aitana Bonmati wins Ballon d'Or Feminin
Aitana Bonmati, as expected, emerged victorious in the previous season by securing titles in both the Champions League and the Spanish Championship, playing for Barcelona.
Additionally, the Spanish national team also won the World Cup with her great contribution.
"I remember when I watched this gala when I was little and I saw, for example, Messi lifting the Ballon d'Ors, and the fact that I could be here one day was very distant. I am here the one who collects this award. It's a source of pride and right now I don't have a lot of words.

Everyone already knows. It hasn't been an easy year for Spanish football. We had to fight for a lot of things and stop focusing only on football. Right now we already want to be professional football players and to be able to return to how important football is, knowing that we are also leaving a legacy beyond the field of play."

Aitana Bonmati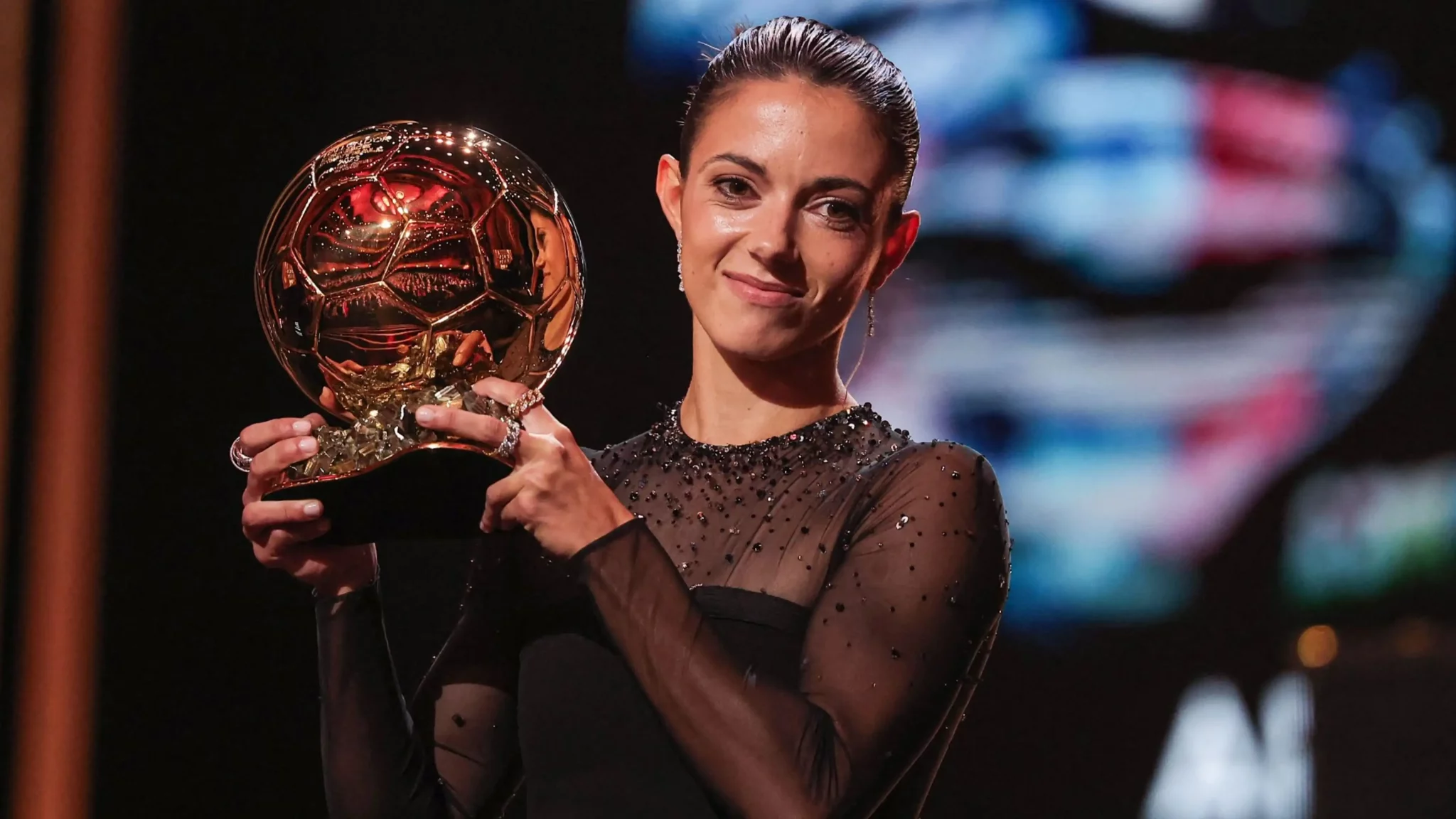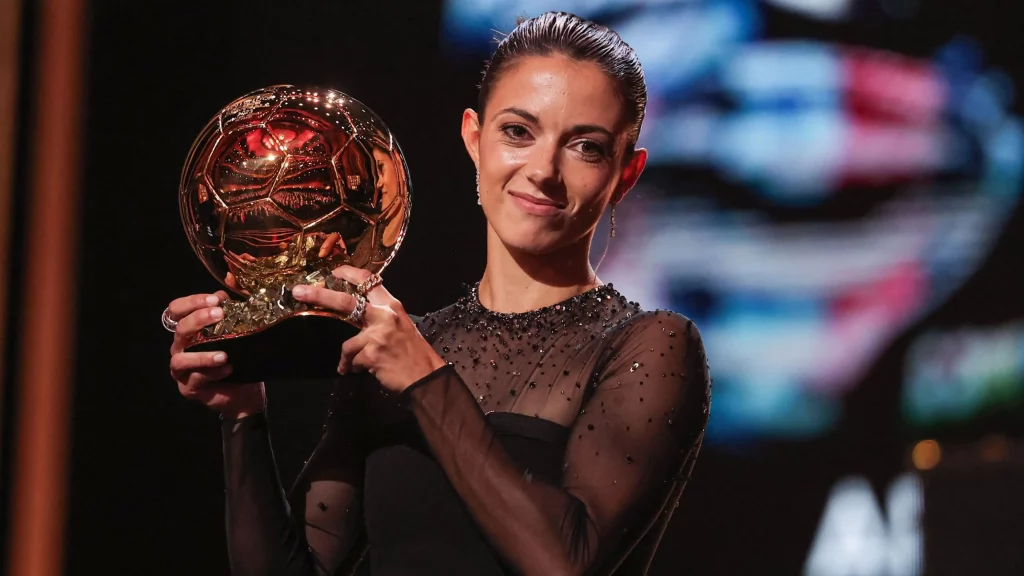 Sam Kerr from Chelsea and Australia took the second spot, followed by Salma Paralluelo, a teenage player from Barcelona and Spain, who claimed third place.
Aitana, it's your moment! #ballondor pic.twitter.com/S1ZsL02hm7

— Ballon d'Or #ballondor (@ballondor) October 30, 2023
Erling Haaland wins Gerd Muller Trophy
Erling Haaland, the striker for Manchester City, has been awarded the Gerd Muller Trophy in recognition of his exceptional goal-scoring performance during the previous season.
Norwegian center forward scored 56 goals for Manchester City in all competitions in the last season.
"Good evening everyone. First of all I want to thank Manchester City, the whole club, I also want to thank my family and all the people around me for making me who I am today." – says Haaland.
During a conversation about goal celebrations, former footballers Didier Drogba, Erling Haaland, and Gary Lineker engage in a discussion.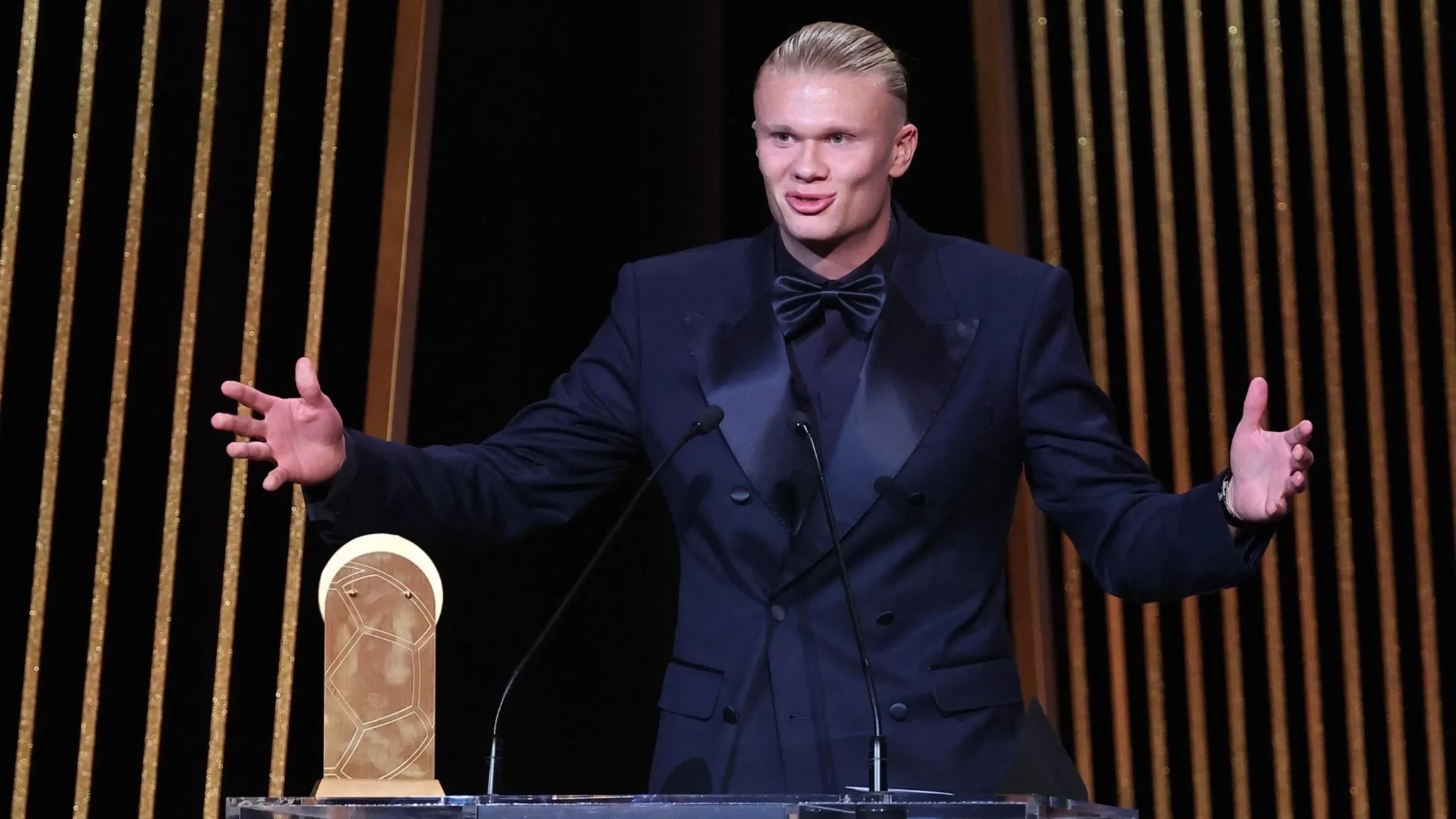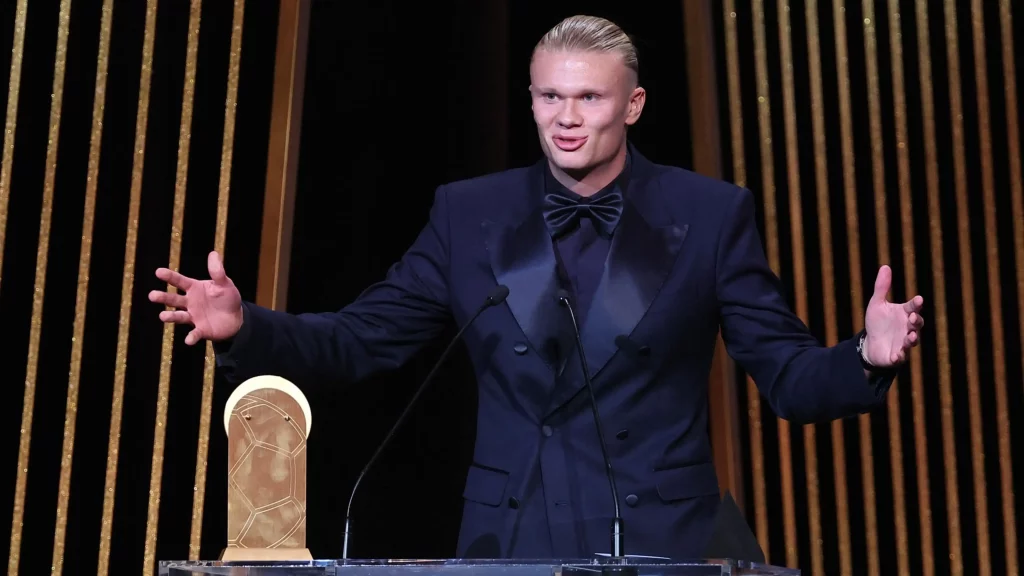 Drogba playfully encourages Haaland to adopt either his or Lineker's celebration for his next goal. Haaland responds by stating that he will decide in the moment and intends to consider both options when celebrating his forthcoming goal.
Manchester City win men's club of year award
Having clinched the Treble during the previous season of football, Manchester City has been recognized as the Men's Club of the Year, and their dominance is demonstrated by the fact that seven of their players feature on the 30-man shortlist.
"Not just the five players in the top 10, a sign of the work that all of us together have been doing is great. Motivation to keep pushing ourselves to be better."

Bernardo Silva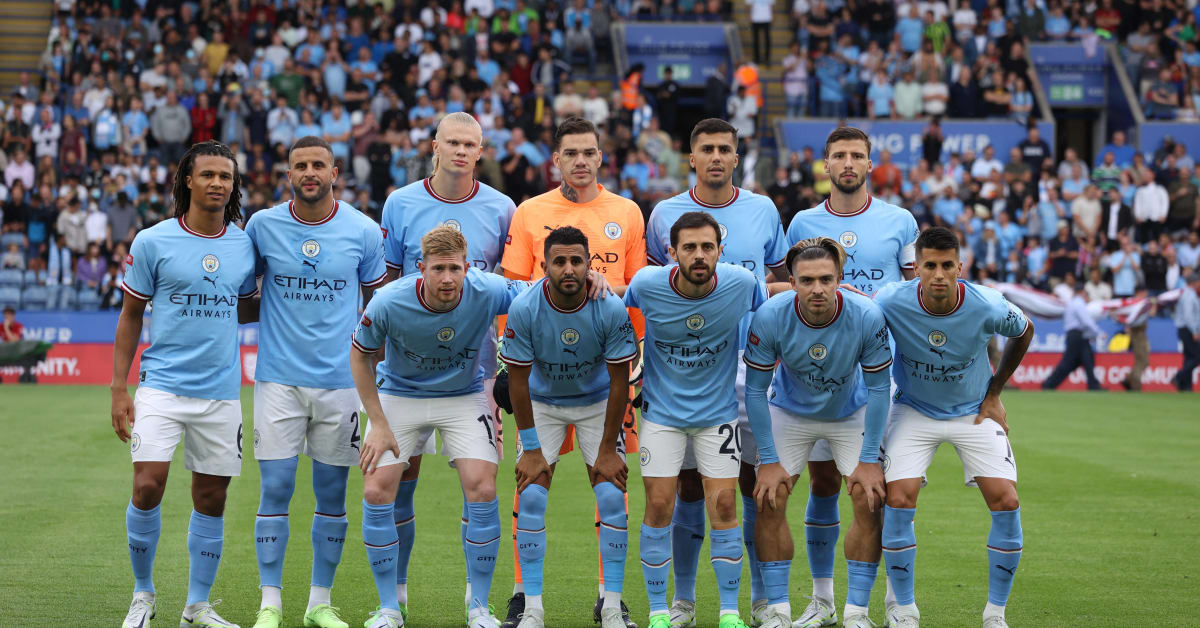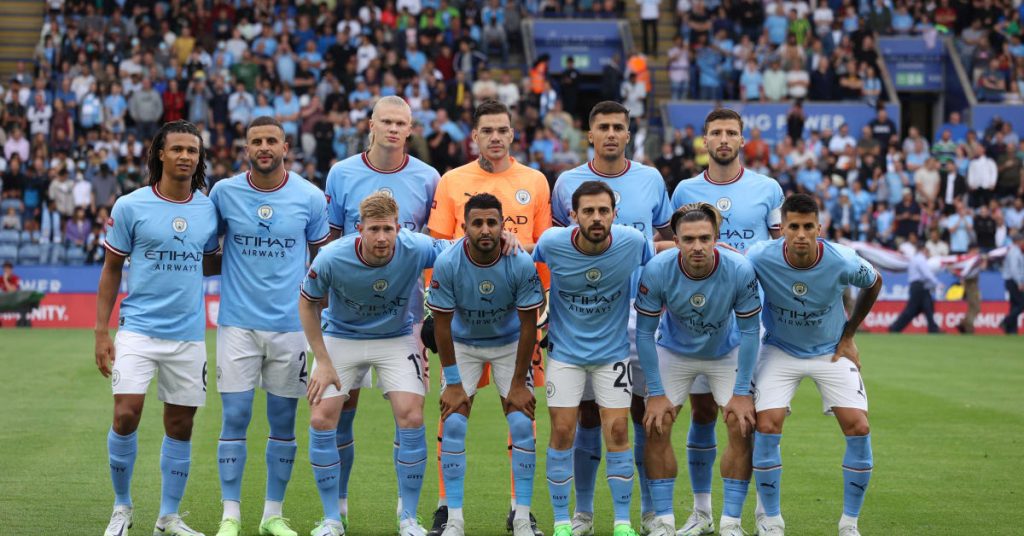 Jude Bellingham wins Kopa Trophy 2023
Jude Bellingham wins the Kopa Trophy for the best young player in the world.
England midfielder discussed his positive experience at Real Madrid, expressing gratitude for the warm welcome he received from everyone at the club.
He acknowledged the pressure of wearing Zinedine Zidane's iconic number five jersey, but saw it as a tribute to one of his heroes.
Despite finishing second to Bayern Munich and Germany forward Jamal Musiala, Bellingham praised Musiala as a great guy and recalled rooming with him during England youth international duty.
TOP 10 for the Kopa Trophy.
1. Jude Bellingham
2. Jamal Musiala
3. Pedri
4. Eduardo Camavinga
5. Gavi
6. Xavi Simons
7. Alejandro Balde
8. Antonio Silva
9-10. Rasmus Hojlund
9-10. Elye Wahi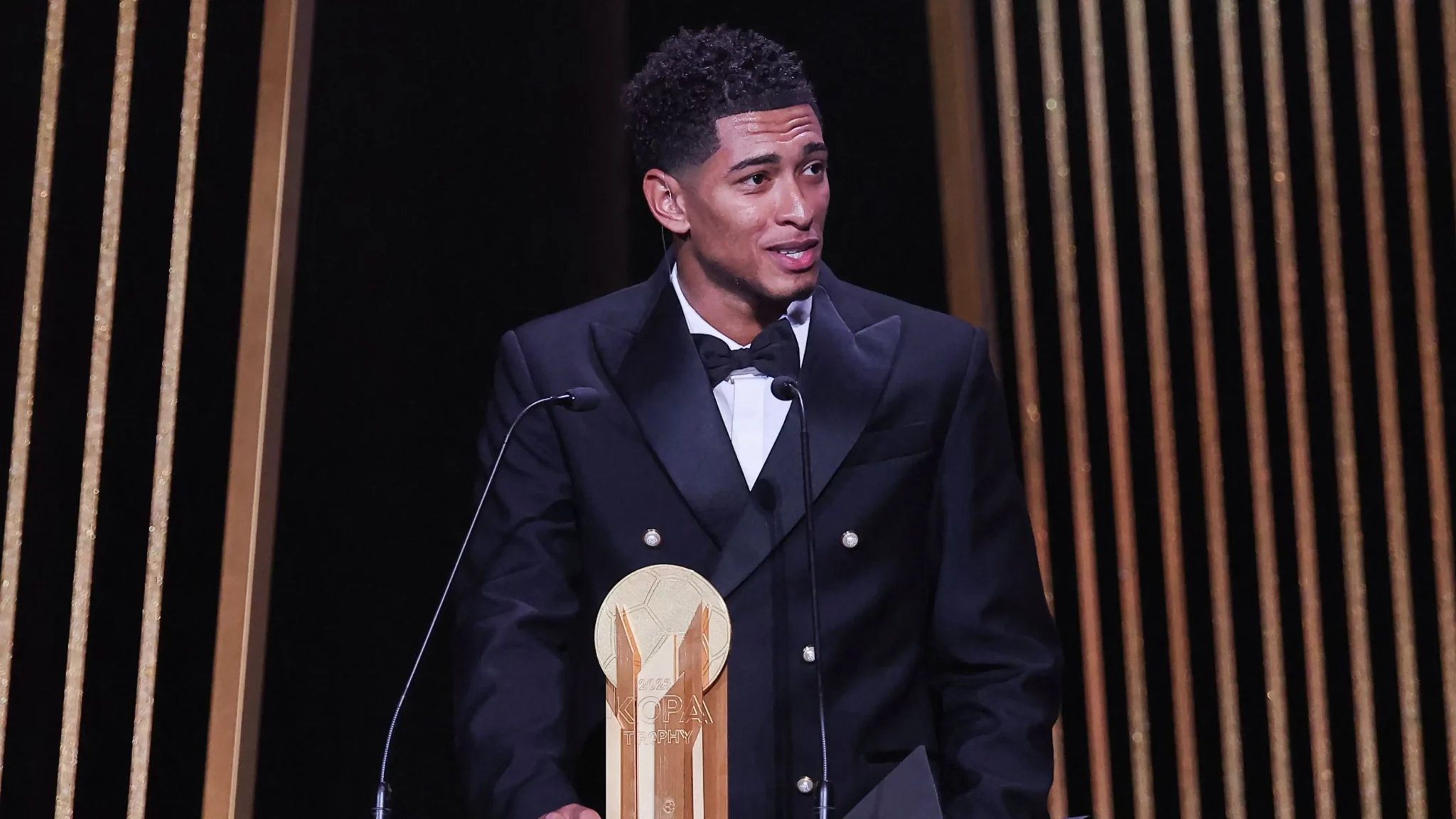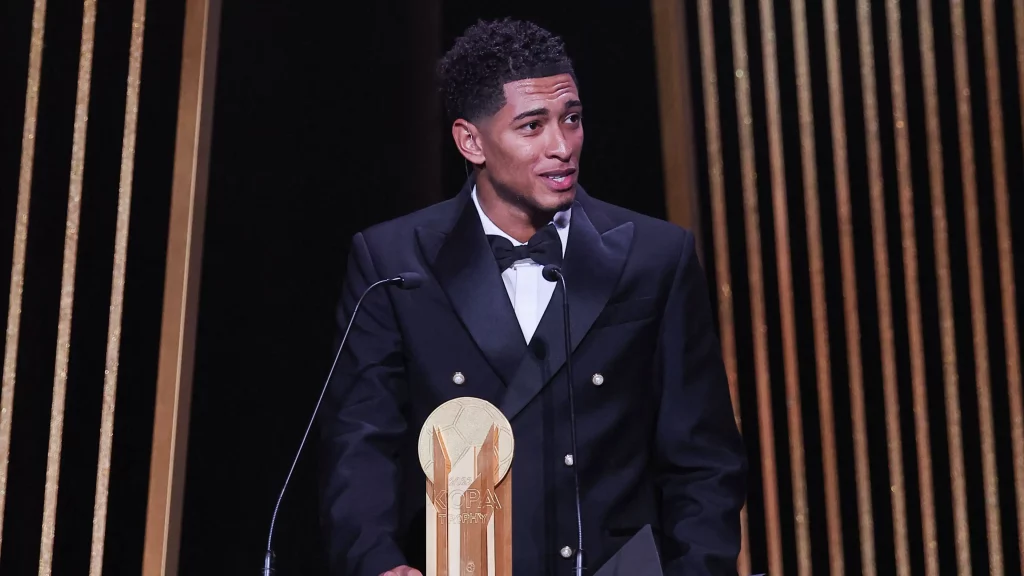 Yashin Trophy to Emiliano Martinez
Emiliano Martinez clinches the prestigious Yashin Trophy, earning the title of the best goalkeeper in the world.
The World Cup-winning save made by Argentina's goalkeeper in the final against Randal Kolo Muani in the last minute will be the subject of discussions for generations, not only in Argentina but beyond.
As Didier Drogba introduced a video on the ceremony featuring Emiliano Martinez's crucial 120th-minute save that prevented Les Bleus from claiming the World Cup, the French audience responded with groans of disappointment.
Emi had 13 clean sheets for Aston Villa in 38 Premier League matches.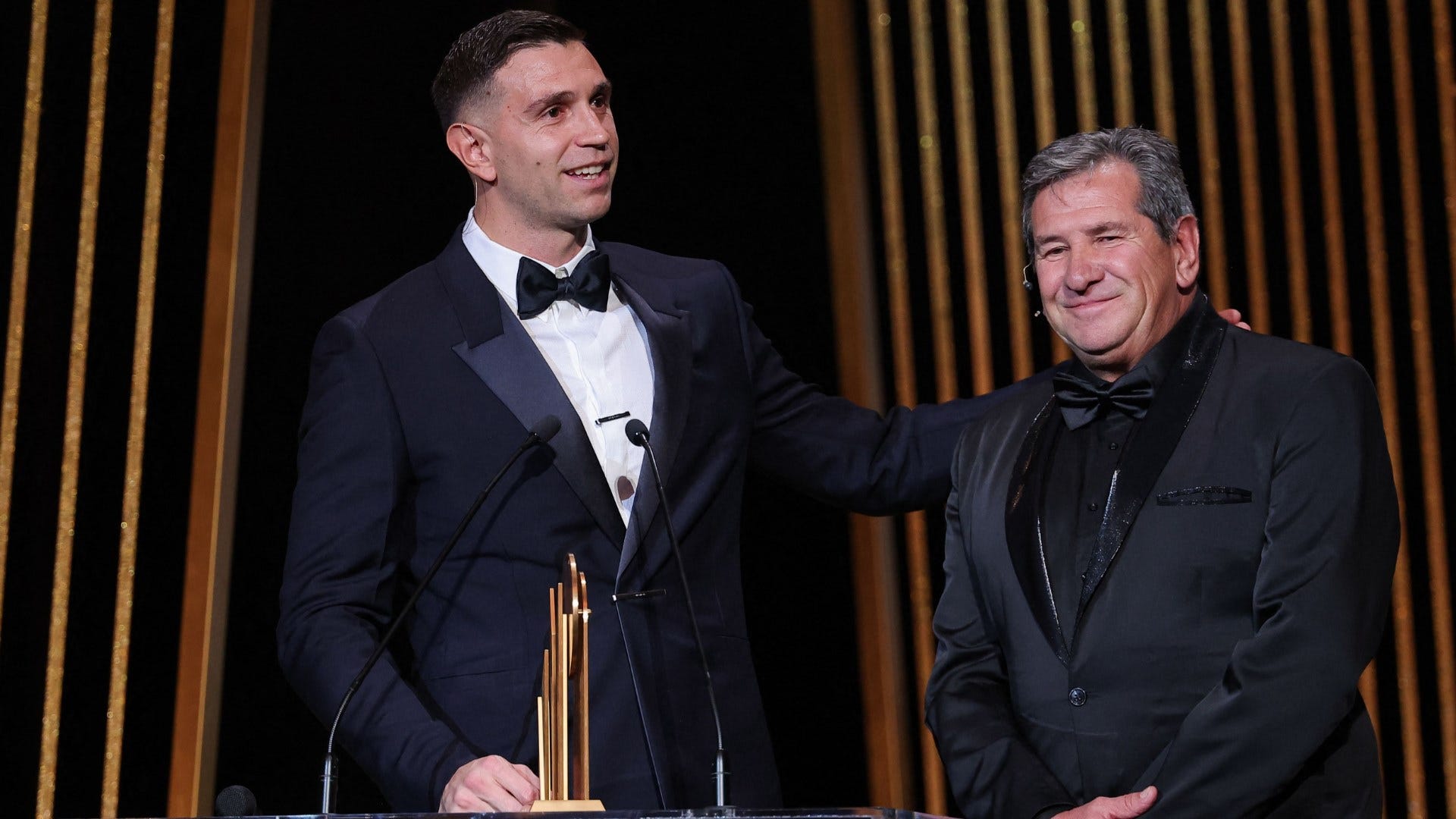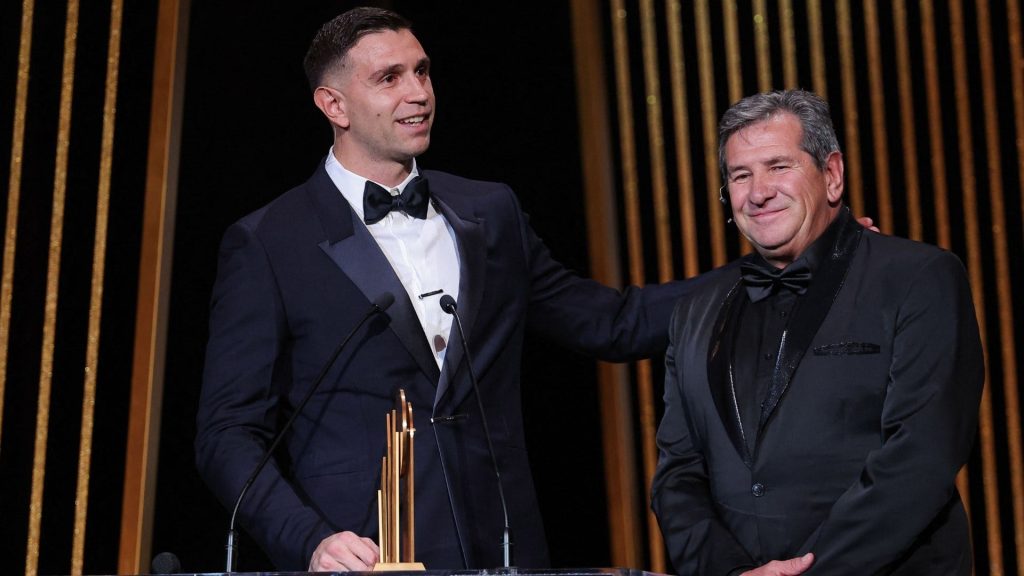 Socrates award goes to Vinicius Jr
The Socrates award was presented to Vinicius Jr, the Real Madrid and Brazil winger, in recognition of his foundation's efforts to assist underprivileged Brazilian children.
Vinicius Jr spoke about his ongoing battle against racism in Spanish football. Anchor Didier Drogba called on authorities to act and put an end to racism in football stadiums across the world.
The Socrates Award is an annual football accolade that acknowledges humanitarian work by a footballer. Former Liverpool and Bayern Munich forward player Sadio Mané was the inaugural winner in 2022 for his humanitarian efforts in Senegal.
The award was named after Brazilian legend Sócrates Brasileiro Sampaio de Souza Vieira de Oliveira.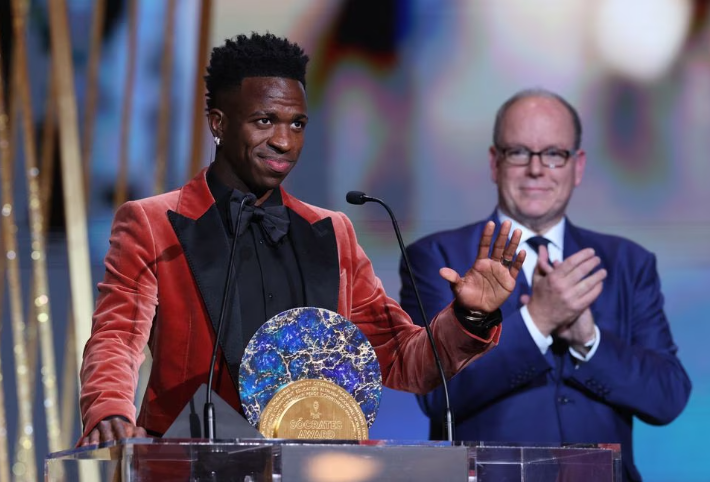 The Women's Club of The Year 2023
The women's club of the year award was won by Barcelona. They clinched the Champions League and Spanish title in the previous season and are represented by six players in the Ballon d'Or Feminin shortlist.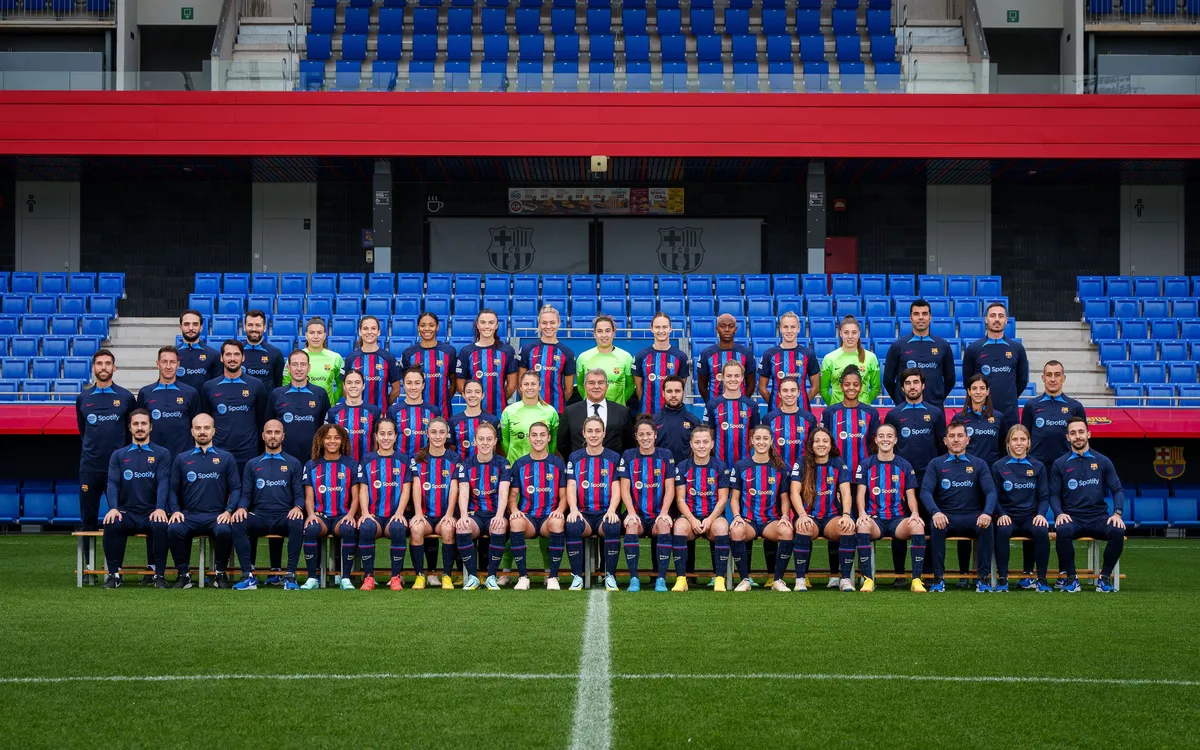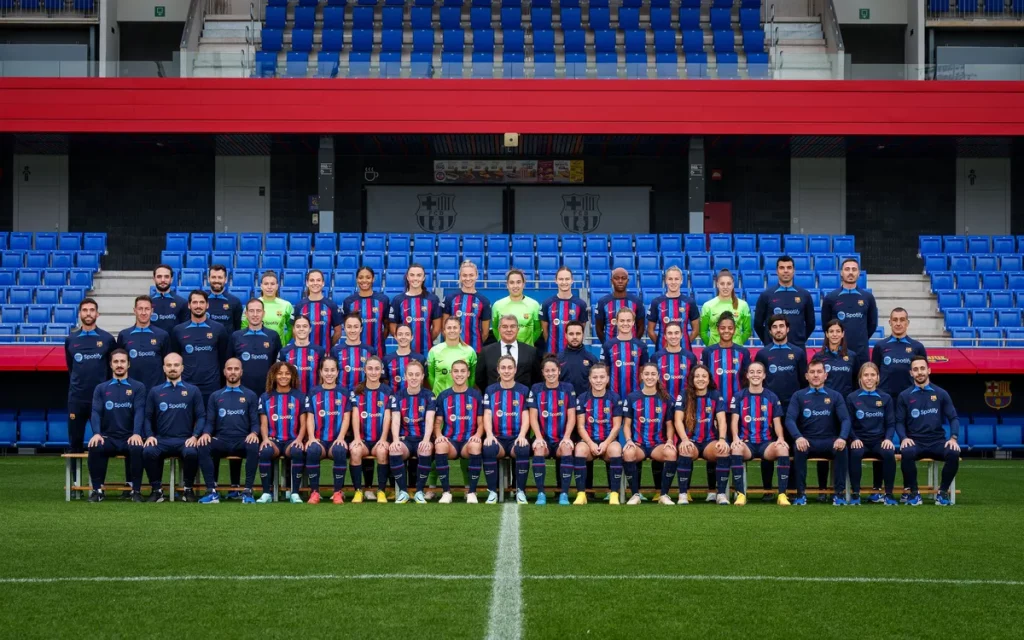 Ballon d'Or 2023 TOP 30 Final Positions
Five-time winner Cristiano Ronaldo, who plays for Al-Nassr, was not nominated for the first time since 2003.
Please, find below the complete list of final positions for the Ballon d'Or 2023.
Lionel Messi
Erling Haaland
Kyliane Mbappe
Kevin De Bruyne
Rodri
Vinicius Jr
Julian Alvarez
Victor Osimhen
Victor Osimhen
Luka Modric
Mohamed Salah
Robert Lewandowski
Yassine Bounou
Ilkay Gündogan
Emiliano Martinez
Karim Benzema
Khvicha Kvaratskhelia
Jude Bellingham
Harry Kane
Lautaro Martínez
Antoine Griezmann
Kim Min-Jae
André Onana
Bukayo Saka
25. Josko Gvardiol
Jamal Musiala
Nicolo Barella
Martin Odeggard
Randal Kolo Muani
Ruben Dias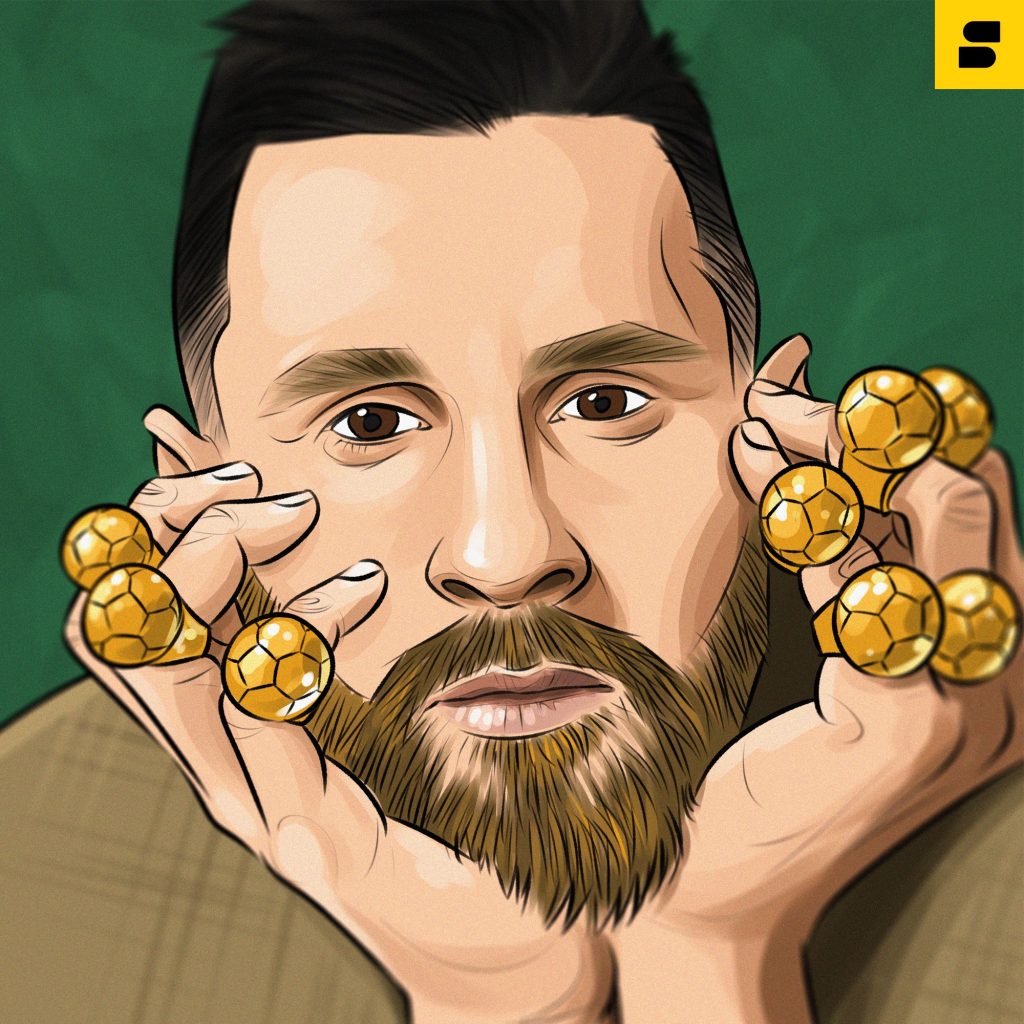 Ballon d'Or 2023 – Winners' List
| | |
| --- | --- |
| Ballon d'Or | Lionel Messi (Inter Miami, Argentina) |
| Ballon d'Or Feminin | Aitana Bonmatí (FC Barcelona Femení, Spain) |
| Kopa Trophy for the best male U-21 player | Jude Bellingham (Real Madrid, England) |
| Yachine Trophy for the best male goalkeeper | Emiliano Martínez (Astona Villa, Argentina) |
| Gerd Müller Trophy for the highest-scoring male striker | Erling Haaland (Manchester City, Norway) |
| Socrates Award to acknowledge humanitarian work | Vinicius Junior (Real Madrid, Brazil) |
| Club of the Year | Manchester City and FC Barcelona Femeni |
What is Ballon d'Or
The Ballon d'Or, translated from French as "Golden Ball," is a yearly football award that the French magazine France Football bestows.
Since its inception in 1956, this prestigious accolade underwent a significant transformation. Between 2010 and 2015, it combined with the FIFA World Player of the Year award, adopting the name FIFA Ballon d'Or. Yet, in 2016, this collaboration with FIFA concluded, restoring its original title.
In a stride towards inclusivity, 2018 saw the introduction of the Ballon d'Or Féminin, celebrating the accomplishments of female footballers.
Who Votes and How Does It Work
Widely regarded as one of the most eminent individual distinctions in football, the Ballon d'Or crowns the world's best male footballer, chosen by an international panel of journalists.
Assessment of the winners hinges on their exploits during the past calendar year, encapsulating their achievements in both club and international arenas.
From European Awards to Global Prize
Initially, the Ballon d'Or's design was to celebrate the pinnacle of European footballing talent, hence the exclusive eligibility of European players. This exclusivity also explains its occasional label as the European Footballer of the Year award. Early evaluations leaned on performances in European tournaments, and voting was the sole prerogative of European journalists.
However, the narrative of eligibility underwent pivotal shifts:
In 1995, the award extended its embrace, welcoming players of all nationalities, provided they showcased their skills in European clubs. This inclusive move paved the way for George Weah of Liberia to clinch the Ballon d'Or in 1995, courtesy of his stellar showings for AC Milan.
By 2007, in sync with the global essence of football, the award discarded all geographical confines, granting eligibility to players globally, irrespective of their club's domicile. This change mirrored the sport's growing international footprint.
All Ballon d'Or Winners 1956-2023
| Year | Player | Country/Club |
| --- | --- | --- |
| 1956 | Stanley Matthews | England – Blackpool |
| 1957 | Alfredo Di Stéfano | Spain/Argentina – Real Madrid |
| 1958 | Raymond Kopa | France – Real Madrid |
| 1959 | Alfredo Di Stéfano | Spain/Argentina – Real Madrid |
| 1960 | Luis Suárez | Spain – Barcelona |
| 1961 | Omar Sívori | Italy/Argentina – Juventus |
| 1962 | Josef Masopust | Czechoslovakia – Dukla Prague |
| 1963 | Lev Yashin | Soviet Union – Dynamo Moscow |
| 1964 | Denis Law | Scotland – Manchester United |
| 1965 | Eusébio | Portugal – Benfica |
| 1966 | Bobby Charlton | England – Manchester United |
| 1967 | Flórián Albert | Hungary – Ferencváros |
| 1968 | George Best | Northern Ireland – Manchester United |
| 1969 | Gianni Rivera | Italy – AC Milan |
| 1970 | Gerd Müller | West Germany – Bayern Munich |
| 1971 | Johan Cruyff | Netherlands – Ajax |
| 1972 | Franz Beckenbauer | West Germany – Bayern Munich |
| 1973 | Johan Cruyff | Netherlands – Ajax |
| 1974 | Johan Cruyff | Netherlands – Barcelona |
| 1975 | Oleg Blokhin | Soviet Union – Dynamo Kyiv |
| 1976 | Franz Beckenbauer | West Germany – Bayern Munich |
| 1977 | Allan Simonsen | Denmark – Borussia Mönchengladbach |
| 1978 | Kevin Keegan | England – Hamburg |
| 1979 | Kevin Keegan | England – Hamburg |
| 1980 | Karl-Heinz Rummenigge | West Germany – Bayern Munich |
| 1981 | Karl-Heinz Rummenigge | West Germany – Bayern Munich |
| 1982 | Paolo Rossi | Italy – Juventus |
| 1983 | Michel Platini | France – Juventus |
| 1984 | Michel Platini | France – Juventus |
| 1985 | Michel Platini | France – Juventus |
| 1986 | Igor Belanov | Soviet Union – Dynamo Kyiv |
| 1987 | Ruud Gullit | Netherlands – AC Milan |
| 1988 | Marco van Basten | Netherlands – AC Milan |
| 1989 | Marco van Basten | Netherlands – AC Milan |
| 1990 | Lothar Matthäus | West Germany/Germany – Inter Milan |
| 1991 | Jean-Pierre Papin | France – Marseille |
| 1992 | Marco van Basten | Netherlands – AC Milan |
| 1993 | Roberto Baggio | Italy – Juventus |
| 1994 | Hristo Stoichkov | Bulgaria – Barcelona |
| 1995 | George Weah | Liberia – AC Milan |
| 1996 | Matthias Sammer | Germany – Borussia Dortmund |
| 1997 | Ronaldo Nazário | Brazil – Inter Milan |
| 1998 | Zinedine Zidane | France – Juventus |
| 1999 | Rivaldo | Brazil – Barcelona |
| 2000 | Luís Figo | Portugal – Real Madrid |
| 2001 | Michael Owen | England – Liverpool |
| 2002 | Ronaldo Nazário | Brazil – Real Madrid |
| 2003 | Pavel Nedvěd | Czech Republic – Juventus |
| 2004 | Andriy Shevchenko | Ukraine – AC Milan |
| 2005 | Ronaldinho | Brazil – Barcelona |
| 2006 | Fabio Cannavaro | Italy – Real Madrid |
| 2007 | Kaká | Brazil – AC Milan |
| 2008 | Cristiano Ronaldo | Portugal – Manchester United |
| 2009 | Lionel Messi | Argentina – Barcelona |
| 2010 | Lionel Messi | Argentina – Barcelona |
| 2011 | Lionel Messi | Argentina – Barcelona |
| 2012 | Lionel Messi | Argentina – Barcelona |
| 2013 | Cristiano Ronaldo | Portugal – Real Madrid |
| 2014 | Cristiano Ronaldo | Portugal – Real Madrid |
| 2015 | Lionel Messi | Argentina – Barcelona |
| 2016 | Cristiano Ronaldo | Portugal – Real Madrid |
| 2017 | Cristiano Ronaldo | Portugal – Real Madrid |
| 2018 | Luka Modrić | Croatia – Real Madrid |
| 2019 | Lionel Messi | Argentina – Barcelona |
| 2020 | [Not Awarded] | [Due to COVID-19 pandemic] |
| 2021 | Lionel Messi | Argentina – Paris Saint-Germain |
| 2022 | Karim Benzema | France – Real Madrid |
| 2023 | Lionel Messi | Argentina – Inter Miami |