Cristiano Ronaldo, the Portuguese legend, has been rewriting the history books in international football with his extraordinary performances and records.
As 2023 progresses, the veteran forward continues to make headlines for both his country and his club. In Portugal's latest match, Ronaldo found the back of the net twice, bringing his total international goals tally to an awe-inspiring 127.
It is worth mentioning that Cristiano Ronaldo has already scored an impressive 40 goals in the 2023 calendar year, making it the best performance across all leagues and teams.
Ronaldo's Records in Portugal National Team
One cannot overlook the immense impact Ronaldo has had on his national team's success. With his brace against Bosnia and Herzegovina in the UEFA Euro 2024 qualifying, he propelled Portugal to a resounding victory of 5-0. This triumph marked their eighth consecutive win in the qualifiers, a testament to Ronaldo's instrumental role.
Having already secured their place in the Euro 2024 tournament, Ronaldo stands as the second-highest goal-scorer in the qualifiers, just one goal behind Belgium's Romelu Lukaku.
After scoring twice in Portugal's European Qualifier with the Republic of Ireland on September 1 2021, he passed Daei, who had scored 109 goals for Iran and was the first player in the men's game to reach 100 goals for his country.
Reflecting on Ronaldo's journey, his professional debut for Sporting CP in 2002 paved the way for a remarkable career. A year later, he found himself donning the jersey of Manchester United.
In August 2003, he made his first appearance for Portugal in an international friendly match against Kazakhstan, substituting for the renowned Rui Costa at halftime. Since then, Ronaldo has been consistently finding the back of the net with remarkable efficiency.
Ronaldo's Journey In International Football
Ronaldo's journey in international football is marked by a series of milestones. In 2020, he became the first European player to reach a century of international goals, achieved during a UEFA Nations League clash against Sweden.
He also broke Ferenc Puskas' record for the most international goals by a European player in the 2018 World Cup when he scored against Morocco.
The Portuguese superstar has not only excelled in scoring goals but has also accumulated an impressive number of caps.
He now holds the record for the most caps in men's international football, with a staggering 203 appearances. In surpassing Sergio Ramos' previous record of 180 caps, Ronaldo solidified his status as an undisputed football legend.
He also surpassed the record holder for Kuwait, Bader Al-Mutawa, who had 196 caps.
Ronaldo Surpassed Iranian Ali Daei's 109-Goal Record
Recently, Ronaldo made headlines once again during Portugal's European Qualifier clash with the Republic of Ireland. With two goals in that match, he surpassed Ali Daei's record and became the first player in men's football to reach 109 international goals for his country.
"I am honoured that this remarkable achievement will belong to Ronaldo," he wrote on Instagram.
Daei, nicknamed the 'Shariar' (King in Persian), scored a remarkable 109 goals in 149 appearances for Iran between 1993 and 2006, an achievement many thought would never be matched.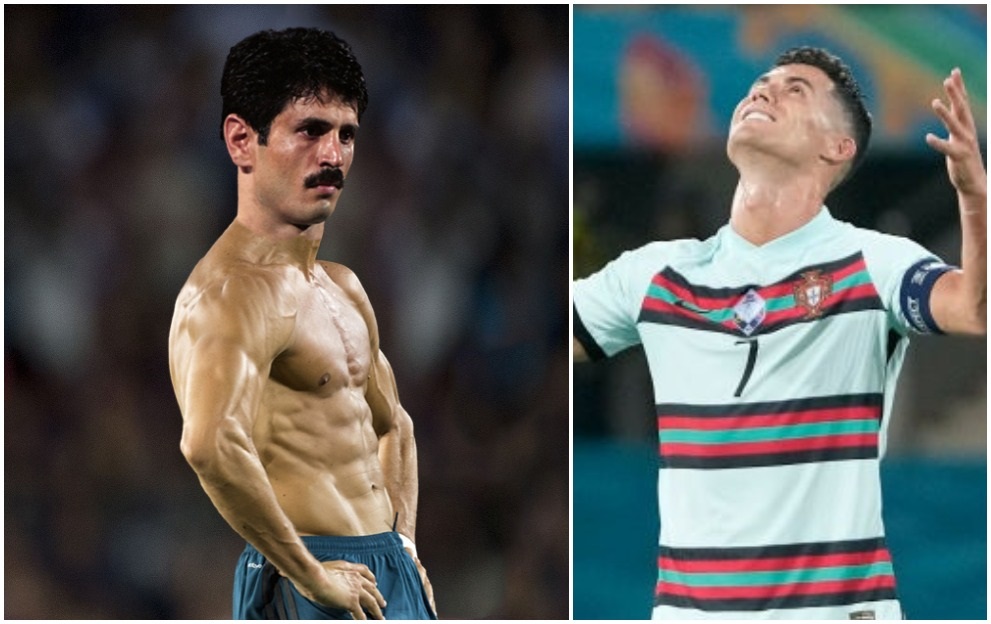 When examining where Ronaldo has scored his goals, it becomes evident that his influence extends across various competitions. Although he has won the Euros and the Nations League, lifting the World Cup trophy has evaded him thus far. Nevertheless, he remains undeterred, showcasing his prowess on the grandest stages.
Digging further into Ronaldo's records in international football, we find that he is the top scorer in Euros qualifying and tournaments, boasting an impressive total of 54 goals.
Additionally, he holds the record for scoring in the most European Championships, having found the net on five occasions. Moreover, he has scored the most goals (107) among all European players, making him a true goal-scoring machine.
In European World Cup qualifying, Ronaldo has scored an astonishing 36 goals, further highlighting his dominance. Lastly, he holds the record for scoring in the most World Cup tournaments, totaling five appearances on the score sheet.
Next Game of Porgual National Team
The next game Portugal will play is against Liechtenstein on November 16th. This will be followed by their last game, which will be played at home against Iceland on November 19th.