Novak Djokovic becomes the first Grand Slam winner of the 2023 season.
This year's edition of the Australian Open ended with a familiar finish: in the final meeting, Novak Djokovic beat Stefanos Tsitsipas in three sets (6-3, 7-6(4), 7-6(5).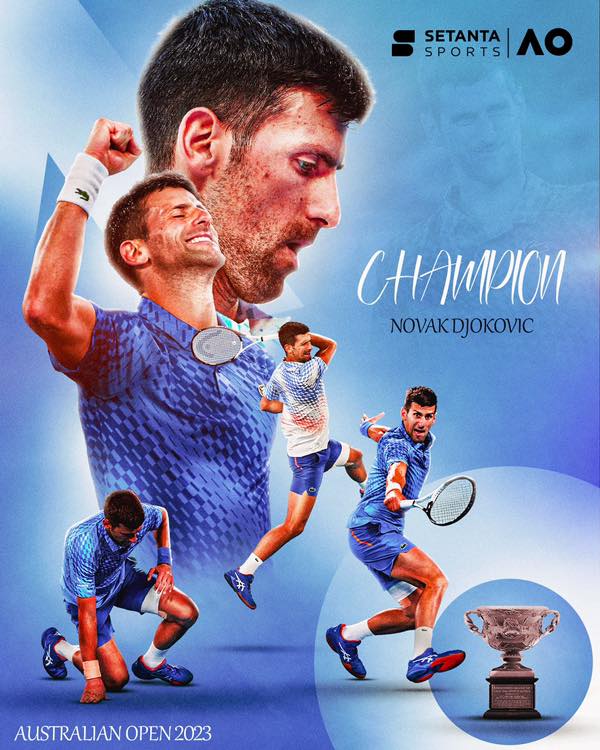 The first set was dominated by Nole. Stefanos got his chances in the second set. In the tiebreak, the Greek had a set point, but Novak handled it with his usual resilience.
The third set was still close. But this time, the Serbian did not give up the lead in the tiebreak.
As a result, Djokovic wins his 22nd major title, equaling Rafa Nadal's record.
Also, this is his 93rd career trophy overall. Only Ivan Lendl (94), Roger Federer (103), and Jimmy Connors (109) remain ahead of him.
At the moment of victory, Novak was filled with special sentiments. He couldn't hold back tears while standing in the stands with team members.
As Djokovic says, this is one of the greatest victories in his career:
"This is one of the most challenging tournaments I have ever played in my life. Considering everything, this is one of my greatest achievements. I want to thank all the fans for such a warm welcome. Thanks to that, I was able to show my best tennis".

– Novak Djokovic.
In addition to all this, Novak Djokovic regained the number 1 spot in the world ranking. From Monday, he will continue his 374th week as world number 1.
Before the start of the Australian Open, we asked the question of who would have the strength to end Novak's hegemony. This question is still actual: