Manchester City has won the Champions League for the first time in their history, beating Inter Milan 1-0 in a tense final held at the Atatürk Olympic Stadium in Istanbul, Turkey.
Long awaited trophy
The victory was a defining moment for the club and a culmination of their long-standing aim to win Europe's premier cup competition.
Since Sheikh Mansour bin Zayed Al Nahyan and the Abu Dhabi United Group took ownership of Manchester City in 2008, winning the Champions League has been the ultimate aim.
The club has spent hundreds of millions of dollars over the years, and despite some controversies, they have finally achieved their goal.
The first Man City game since 2010 that Sheikh Mansour attended. Since buying the team in 2008 through his investment vehicle, Abu Dhabi United Group, City's benefactor has just twice attended a competitive match. The first one was 13 years ago, when Man City defeated Liverpool 3:0.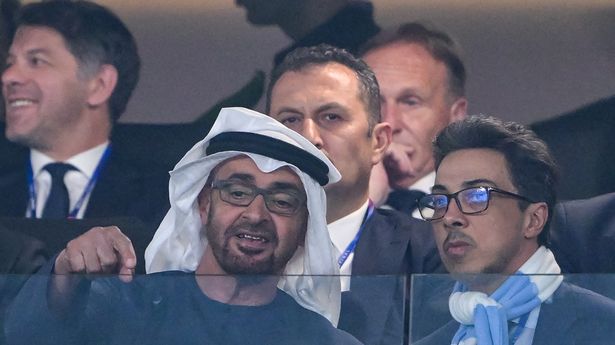 Manchester City 1:0 Inter Milan
The match against Inter Milan was a tight affair, with few chances for either team. Bernardo Silva had a chance for Manchester City in the first five minutes, while Erling Haaland had his best chance of the match in the 26th minute, forcing a low save from Inter goalkeeper André Onana. Nicolò Barella also had a chance for Inter Milan but missed the target.
Second half
The second half was just as tense, with Inter Milan defending brilliantly and Manchester City probing for openings. It was not until the 68th minute that Manchester City broke the deadlock, with Rodri scoring a curling first-time shot from a Bernardo Silva cut-back that beat several Inter defenders.
Inter Milan tried to mount a comeback, with Federico Dimarco's header striking the crossbar and his follow-up effort from six yards out hitting teammate Romelu Lukaku. In the closing minutes, Ederson made a crucial save to deny Lukaku and secure the trophy for Manchester City.
Kevin De Bruyne – Injured second time in the final
KDB is just the second player who got injured in two different finals. First such player was Dani Carvajal right back of Real Madrid. Hopefully, this negative omen didn't work against Man City unlike Porto's final agains Chelsea.
"Well, it's what I've been fighting for many, many years. And, you know, it's incredible that we've been able to achieve that with City. It's the first one in the history of the club. So, we'll always be associated in that way with the club. So, it's really special.

I don't know. It feels a little bit weird, a little bit empty at the moment. You know, you've done so, so much We've won so much this season. It has been incredible. I don't know how to explain what's going on.

No, really, I'm happy, you know. I'll take the injury, what it is. It's never nice to get injured, but I felt good in the in the game. I thought I started really well, created some chances.

To be honest, just enjoy this moment. I think we've won the League and the Cup, but there's been a little bit of a subdued party, so I think we really should enjoy the moment and, you know, enjoy it now with a family. And then probably on Monday, we have the parade, enjoy it with everybody in the city because everybody deserves it. Just get the atmosphere and enjoy it. And then, you know, what happens next year or what happens in four or five weeks and then we prepare. But it's not the time for that."

Kevin De Bruyne – Man City Footballer
Historic treble won by Manchester City
The victory was not only significant because it was Manchester City's first Champions League win, but it also made them only the second English team to achieve the treble, winning the Premier League, FA Cup, and Champions League in the same season.
The first team to do so was Manchester United in the 1998/99 season.
While comparing teams from different eras is futile, this Manchester City side is as dominant domestically as that Manchester United team of Alex Ferguson, winning five league titles in six seasons. The challenge now is to accumulate titles as ruthlessly in Europe, as it is the competition's serial winners who are remembered and feted the most.
Pep Guardiola – written in the stars
What did Pep Guardiola say after the final? He appreciated Inter Milan's game quality, his entire squad and staff, and traditionally told some quality jokes.
"But first of all, my first words is for Inter Milan for congratulate them for just the performance. I know what they feel because we felt it two seasons ago (against Chelsea in the Champions League final).

There are no words that can handle the pain. But also I want to tell you that they second best team of Europe, and when you are the second best team of Europe it's incredible.

The second thing I would like to say is for my sport director, my CEO, I would say, my chairman, that normally when you don't get the Champions League, after many, many (years) you are being sacked.

So how many clubs just for doing this competition destroyed the projects and this club… the strength of this club is the not winning that everyone say you have to win it, you have to win it, and they were to continue to do it and at the end, sports is like that. So, sometimes looks like this competition this year, this final was written in the stars."

Pep Guardiola – Manchester City head coach
What did Simone Inzaghi say after the final
"It's only right to have regrets because defeat is the worst thing that can happen in sport. But at the same time I complimented the lads, who were sad and disappointed. They must be proud of the campaign they have done and the way they performed in the final. Tonight we played a great game and we clearly didn't deserve to lose. We played against a tremendous opponent. But they also found a great Inter who played a great final.

For us it would have been fantastic to share with them this trophy against the strongest team in the world. We played with our weapons. Obviously now there is disappointment but at the same time, as I told you in yesterday's presser, I wouldn't have changed any of my player with any other player in the world. And tonight the whole world had the chance to see why.

This is football. These setbacks help you improve. Clearly, a Champions League final against an opponent of this magnitude, with such a good performance… I'm still wondering why in those last 25 minutes… Balls at one centimetre (from the goal line), the crossbar, the goalkeeper's ankle, our player who hits an opponent (he means a team-mate, with Federico Dimarco's header being deflected by Romelu Lukaku). Probably it was all already written, but at times you have to try to change what is written and we didn't make it. But the lads must walk with their heads high because their Champions League campaign and their final was exceptional.

In my opinion Manchester City deserved the Champions League in the last few years. For sure tonight they found themselves against a great Inter who in the last 30 minutes put them against the ropes. And clearly Inter were the more deserving team. But I congratulated Pep (Guardiola), they deserved it in the last few years because they always got so close. They deserved it for sure but I would have gladly made them wait a bit longer".

Simone Inzaghi – Inter Milan head coach
The victory was a result of a superb team effort by Manchester City, who played with great intensity and determination throughout the match. The players and fans celebrated the victory with great joy and excitement, and it was a moment that will be remembered by Manchester City fans for years to come.
In conclusion, Manchester City's victory in the Champions League final against Inter Milan was a defining moment for the club and the culmination of their long-standing aim to win Europe's premier cup competition. The victory was a result of a superb team effort and a never-say-die attitude, and it will inspire the team to achieve even greater things in the future.