Manchester United will compete in the FA Cup round of 16. The Red Devils defeated Everton 3:1 in the 1/32 final.
Marcus Rashford shined and maid the main difference between two sides. The Englishman confirms that he is in great form. Rashford took part in all three goals scored by United.
Match
The home team was dominant in the first half and took an early lead in the game. Antony scored in the fourth minute after receiving a pass from Rashford.
Everton quickly equalized. Conor Coady took advantage of David de Gea's ineffective performance in the 14th minute to restore the balance. The Spaniard was unable to seal the left corner, and his three-match clean sheet record at Old Trafford was also ended.
Jordan Pickford demonstrated his abilities one more time. The England and Everton goalkeeper ended the game with 5 saves. In the first half, the goalie had two.
Alex Iwobi got injured in the start of the second half. The Nigerian was carried away on a stretcher and was replaced by Abdoulaye Doucoure.
Manchester scored again quickly. Rashford dribbled into the penalty box from the wing in the 52nd minute, beat Seamus Coleman, and let Conor Coady to score an own goal.
Manchester have been attacking lively, though Pickford was still convincing.
Demarai Gray and Dominic Calvert-Lewin made astonishing one two in the 74th minute. Gray passed the ball brilliantly, and Lewin scored a goal, but the equalizer was rejected by VAR for offside. Demarai Gray was one of the most active player from Toffees.
At the end of the game, Erik Ten Haag introduced Alejandro Garnacho before bolstering the defense with Fred and Scott McTominay.
Marcus Rashford scored the last goal. Manchester's leading scorer this season confidently converted Garnacho-won-penalty.
He's flying right now! #BBCFootball #MUFC pic.twitter.com/f54nc0esjL

— Match of the Day (@BBCMOTD) January 6, 2023
Sack the Board – Everton Fans
Everton didn't seem horrible, but the supporters were fed up with the team's lack of results. As a result, the Everton fans assembled at Old Trafford carried banners criticizing the club's administration.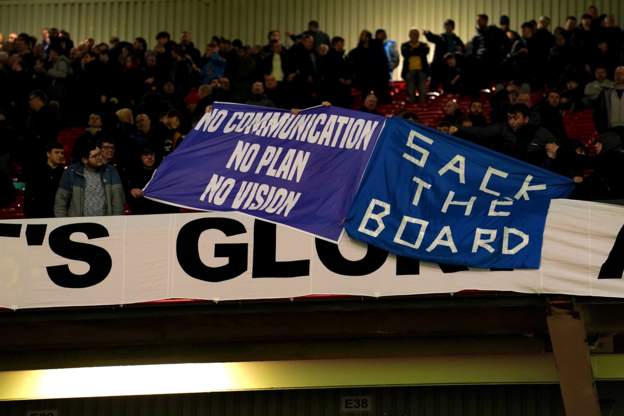 Post match Comments
"It's always nice to go through in cup games and the FA Cup is definitely a special one to play in. We're pleased to go through to the next round and more importantly we keep momentum going and winning games.

They're under a bit of pressure but I thought they did well, they didn't panic after they conceded so early on. They got back into the game twice – one was offside – so they're still fighting for each other as a team. Hopefully things get better for them.

In terms of performances, it's probably the best that I've been so I feel good on the pitch, I'm getting into positions and areas to score goals. If I keep creating chances, I feel like I'll keep scoring.

That's the aim, that's why we do what we do and why we work so hard. We want to be in finals and the biggest games. Ultimately, we want to be win silverware and a trophy. Hopefully this season we get a chance to do that."

Marcus Rashford – Manchester United forward
"Rashford is in good form and on a good run, keep it going. If he keeps focus, concentration and the good work. If he keeps investing in training and games, I am convinced he can keep it going.

It was a game with a lot of tackles from both teams, we are happy to win this game and really happy to get into the next round.

I think their performance was really good, they played brave on the front foot and they went forwards. The audience got the perfect game, a good show and we are happy with the win.

I know Manchester United are always aiming for trophies and we are going for that. We cannot force this and have to focus on the next game, not focus on trophies, that is far away. We have to work on the team and development.

I think we will have that, we can fight and fight back if necessary. We can act and stay composed so we have resilience. We have good skills in the team to win games and win prizes."

Erik ten Hag – Manchester United manager
"I think we deserved better. The players were very, very good in a sense of organisation, the game plan, the work ethic. Things which should be basics in football but people question them when you have a performance like we did the other night.

We were really good. We had the better chances I think. Good chances for us and a goal disallowed. Marcus Rashford was probably the difference between the teams. A top individual talent can do that to you.

That's not under my control. It's not for me to focus on that. It's for me to focus on what I saw tonight and that was a performance that every manager wants with the attitude of the team, and the focus. The focus now is Southampton.

This league can change very quickly and when you're in a difficult run you have to work really hard to get out of it but it can change.

I don't want to talk about my future, I only want to talk about the players and how well they played. My focus is on this team and getting a result against Southampton.

When the players perform with the spirit of an Everton player, the fans will react to that. Even in defeat and that says a lot. We can't harp on too much about the fans, I don't want to hear that talk about the fans too much in a football sense.

The game next week is at Goodison and we need to make the fans feel about the team like they did tonight – and then go out and try to win the game."

Frank Lampard – Everton manager
Manchester United's next encounter will be against Charlton Athletic on EFL Cup. The match will be broadcast live on Setantasports.com.
Everton will play Southampton at Goodison Park on January 14th in the Premier League.