Former Manchester City midfield maestro, David Silva, has announced his retirement from professional football, marking the end of a stellar 19-year playing career that captivated fans and earned him legendary status in the sport.
The 37-year-old Spanish great, who spent a highly successful decade at Manchester City, followed by a brief stint at Real Sociedad, leaves behind a legacy that will be cherished by football enthusiasts for generations to come.
David Silva – The Start in FC Valencia
During his time at Valencia, David Silva emerged as one of the most promising talents in Spanish football. He joined the club's youth academy at a young age and quickly rose through the ranks, showcasing exceptional skills and creativity on the pitch.
Silva made his senior debut for Valencia in the 2004-2005 season when he was just 18 years old. His performances as a crafty attacking midfielder caught the eye of football enthusiasts, and he soon became a key player for the club.
With his mesmerizing dribbling ability, precise passing, and astute vision, Silva played an integral role in Valencia's success during his tenure at the club. He formed crucial partnerships with other talented players like David Villa and Juan Mata, contributing significantly to Valencia's attacking prowess.
During his Valencia period, Silva helped the club secure a memorable Copa del Rey victory in the 2007-2008 season. His performances consistently impressed both fans and pundits alike, earning him recognition as one of the brightest talents in La Liga.
Moreover, Silva's outstanding performances at Valencia earned him a call-up to the Spanish national team, marking the beginning of his illustrious international career. His ability to seamlessly adapt to the demands of international football further showcased his footballing intelligence and versatility.
As his reputation continued to grow, Silva attracted interest from top clubs across Europe. In the summer of 2010, after six successful years at Valencia, he made a high-profile move to the English Premier League, signing for Manchester City in what proved to be a pivotal moment in his career.
Muchas gracias…fútbol pic.twitter.com/HoB6TPojAd

— David Silva (@21LVA) July 27, 2023
A Decade of Dominance at Manchester City
David Silva's journey to football stardom began when he joined Manchester City in the summer of 2010, making a decisive move from Valencia CF. From the moment he donned the sky-blue jersey, Silva mesmerized fans and opponents alike with his exquisite dribbling, precise passing, and unparalleled vision on the pitch. His partnership with fellow stars like Sergio Agüero and Yaya Touré formed the foundation of Manchester City's golden era.
During his illustrious tenure at the Etihad Stadium, Silva played a pivotal role in helping the club secure four Premier League titles, marking a period of unprecedented success in Manchester City's history. His ability to orchestrate play from midfield and create scoring opportunities made him a linchpin of the team's attacking prowess.
The Magician's Journey Beyond England
In 2020, after a decade of remarkable service to Manchester City, David Silva decided to embark on a new chapter of his career with Real Sociedad in La Liga. His arrival in Spain was greeted with excitement, as fans anticipated the magic that the diminutive midfielder would bring to the Basque club.
Unfortunately, Silva's time at Real Sociedad was marred by an untimely and serious knee injury suffered during pre-season. Despite his determination to return to the field, the toll of the injury and the wear and tear of a long and successful career led him to make the difficult decision to retire.
A Farewell Message from the Maestro
Announcing his retirement on social media, David Silva expressed his emotions, saying, "Today is a time to say goodbye to what I have dedicated my whole life to. I'm going to miss you. Thank you for making me feel at home." Silva's heartfelt words touched the hearts of fans and former teammates, who have shared an unbreakable bond with the footballing magician.
The Legacy of a Spanish Wizard
David Silva's legacy extends far beyond his impressive statistics. With 309 appearances and 60 goals for Manchester City, his impact on the club's success is undeniable. Silva's grace, elegance, and humility on and off the field have earned him admiration from peers and rivals alike.
On the international stage, Silva was an integral part of the Spanish national team's golden generation, playing a pivotal role in Spain's historic triumphs at Euro 2008, the 2010 World Cup, and Euro 2012.
David Silva – Co-Author of Spanish Golden Era
David Silva made his debut for the Spanish senior team in November 2006 and quickly became a key player for the national side.
He was an integral part of the Spanish team that triumphed at the UEFA European Championship in 2008, held in Austria and Switzerland. His skillful playmaking and ability to unlock defenses played a crucial role in Spain's success. He established himself as a key creative force in the team's midfield.
Two years later, Silva was a pivotal figure in Spain's historic 2010 FIFA World Cup campaign in South Africa.
La Roja captured their first-ever World Cup title, and Silva's performances were instrumental in guiding the team to victory. His vision, passing, and footballing intelligence were vital components in Spain's possession-based style of play, which mesmerized football fans worldwide.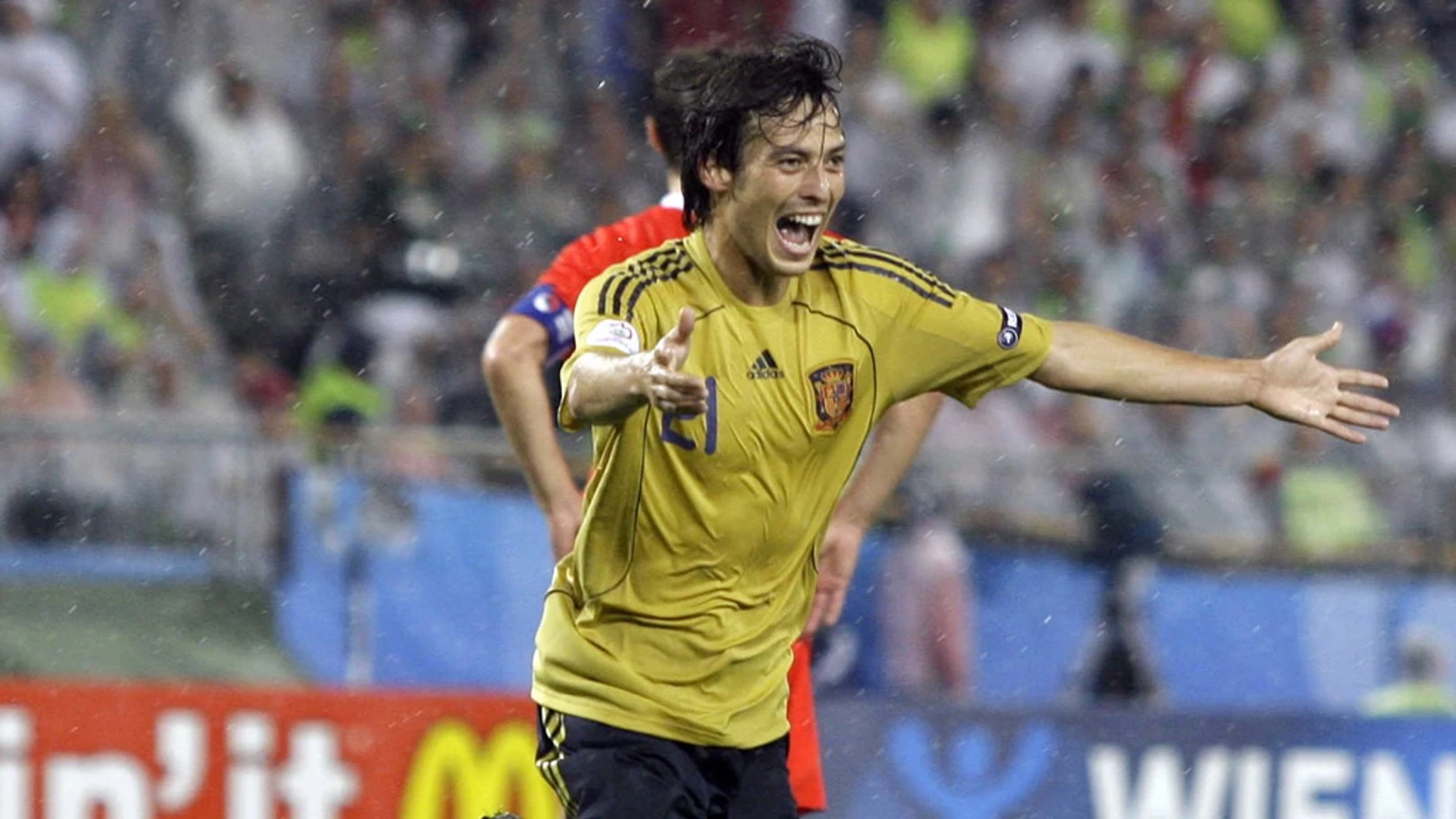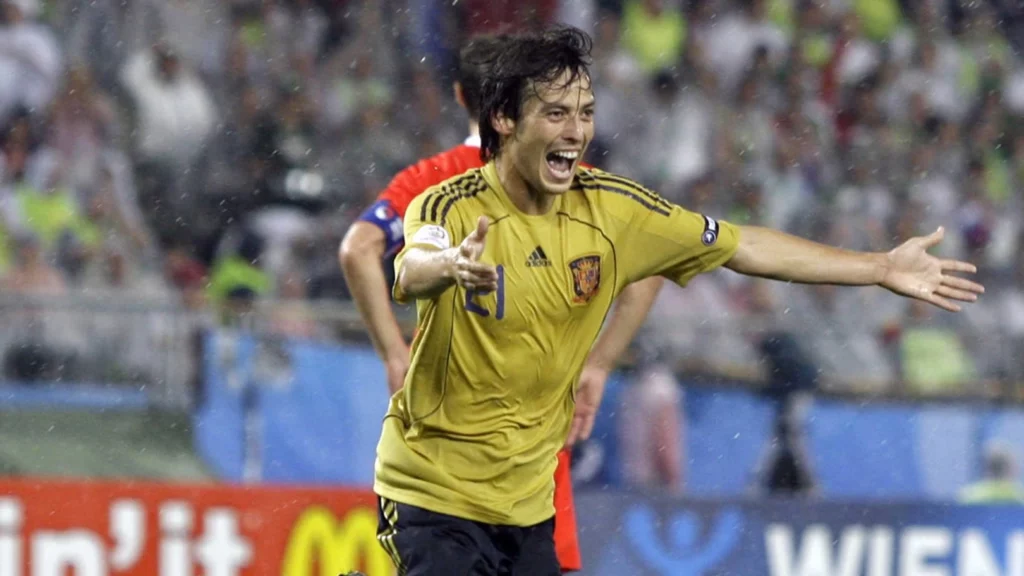 The success did not stop there. In 2012, Silva once again proved to be an indispensable asset as Spain retained their European Championship title at Euro 2012, held in Poland and Ukraine.
His performances earned him a place in the Team of the Tournament, showcasing his consistent excellence at the highest level.
Throughout his international career, David Silva amassed 125 caps for Spain, solidifying his position as one of the most capped players in the nation's history.
His ability to perform at the highest level in major tournaments, combined with his technical brilliance and composure under pressure, cemented his legacy as one of Spain's all-time great footballers.
Silva's performances in the Spanish national team jersey will forever be cherished by fans, and his impact on Spain's success during one of the most dominant periods in international football history will be remembered as a significant chapter in the annals of the sport.
Football Salutes a True Artist
His unique ability to control the tempo of the game and unlock stubborn defenses has left an indelible mark on the sport.
As the maestro hangs up his boots, he leaves behind a legacy that will inspire future generations of footballers to aim for greatness, both on and off the pitch. Thank you, David Silva, for the enchanting moments and the beautiful football you gifted us throughout your extraordinary career.