Georgi Kinkladze, the Manchester City and Georgian football legend, turns 50 today. This birthday marks a significant moment in his life, career and the Georgian football world. To celebrate Kinkladze's birth anniversary, let's take a look back at his astounding career and his contribution towards the game.
Born on 6th July 1973, Georgi Kinkladze played his youth career in Georgia before moving to the highest echelon of British football.
In 1995, he signed with Manchester City, which commenced his career in England. He quickly became a cult hero for City fans due to his style of play, technique, and ability to mesmerise defenders with his dribbling skills.
Many believe he was ahead of his time and that his skills could have dazzled the best defenders in today's game.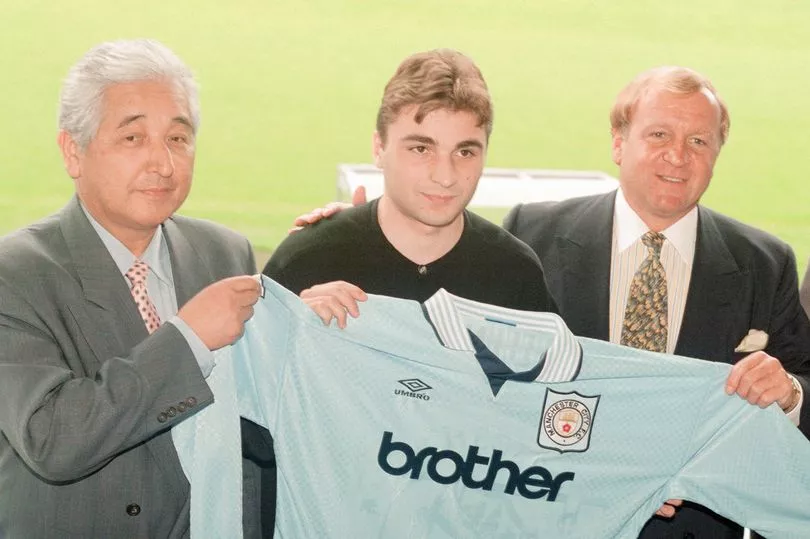 Georgi Kinkladze in Manchester City
During his tenure at Manchester City from 1995-1998, Kinkladze scored 19 goals and assisted 5 more over 107 appearances. However, he is most remembered for his incredible solo goal against Southampton in 1996 that was voted as the best goal of the season by BBC and Sky Sports. Undoubtedly, Kinkladze was a player that could make headlines in a snap.
During his entire career Kinkladze has got several nicknames. The first was 'Rivera of the Black Sea' named from Italian press and the most widespread one – 'The Magician of Maine Road'.
After leaving Manchester City, Kinkladze played for various clubs, including Ajax, Derby County and Lokomotiv Moscow. Kinkladze also played for the Georgian National Team, where he had a remarkable career, amassing 55 caps and scoring 8 goals.
Though Kinkladze retired from the game in 2006, legacy he left behind still resonates with many football enthusiasts. He was a rare talent that graced the football pitch and left a lasting mark on Georgian football. Fans still regard him as one of the most talented footballers to come out of Georgia.
Where Georgi Kinkladze is now
Georgi Kinkladze is settled and currently resides with his family in Tbilisi, Georgia. Occasionally, he receives invitations to participate in charity matches. In the most recent event, he played at Ibrox in Glasgow when the Rangers Legends faced the World Legends team.
Today, as Georgi Kinkladze turns 50, we can only celebrate him and acknowledge his contribution to football. He was a player who lived up to the expectations of football fans and became an inspiration to many young footballers in Georgia.
Happy Birthday, Kinky!