LeBron James has surpassed Kareem Abdul Jabbar's 39-year-old-record to become the NBA's all-time top scorer.
James, 38, of the Los Angeles Lakers, scored 38 points in a 133-130 loss against the Oklahoma City Thunder to break Abdul Jabbar's record of 38,387 points.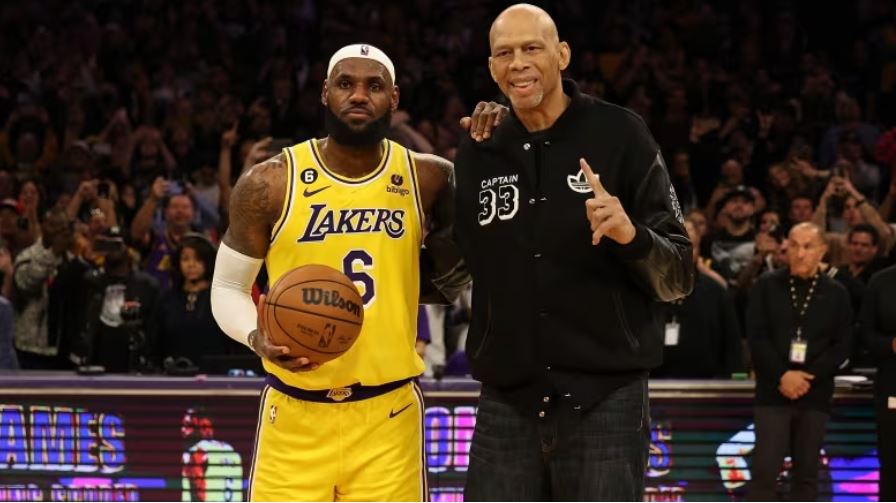 Abdul-Jabbar first set the record in April 1984, eight months before James was born.
"It means so lot to me to be in the presence of a legend and great like Kareem," James added.
James broke the record on a fadeaway jumper at the end of the third quarter, and he completed the game with a career total of 38,390.
There was a brief pause in play for a ceremony to commemorate the accomplishment, with James seizing the microphone and making a speech on the court.
What did LeBron say?
"Everybody that has ever been a part of this run with me the last 20-plus years, I want to say thank you so much because I wouldn't be me without all you. You all helped. Your passion and sacrifices helped me to get to this point.

And to the NBA to Adam Silver, to the late great David Stern, thank you very much for allowing me to be a part of something I always dreamed about. I would never in a million years dreamt this to be even better than what it is tonight."

LeBron James – NBA all-time scoring leader
LeBron's last 5 games
What did Abdul-Jabbar say?
In front of a roaring throng that included tennis icon John McEnroe, music artists Jay-Z, LL Cool J, and Bad Bunny, boxer Floyd Mayweather Jr, and actor Denzel Washington, Abdul-Jabbar ceremoniously handed over the ball to James to recognize his new record.
"I thought it had every chance of being broken. It just had to have someone that the offense focused on continually.

LeBron's career is one of someone who planned to dominate this game. You have to give him credit for just the way he played and for the way he's lasted and dominated."

Kareem Abdul-Jabbar – Record six-time NBA MVP